Some people are against significant age-gap marriages, while others prefer it as a way of life. Many people, including celebrities, are in an older man/younger woman marriage, which has a poor reputation for no reason.
EstablishedMen can be your partner in crime if you're an established guy drawn to younger women. They advertise themselves as a high-end, large site where beautiful young ladies can meet rich mature guys. If you're a single lady wishing to be spoilt by an established gentleman, on the other hand, this online dating site will serve as your meeting agency.
This review will go over all there is to know about this online dating site, including pricing, functionality, and customer support.
We researched hundreds of Established Men reviews, studied dozens of features, and put this dating platform through its tests to bring you this thorough Established Men review. If you want to learn how this site works, keep reading.
What we know about this site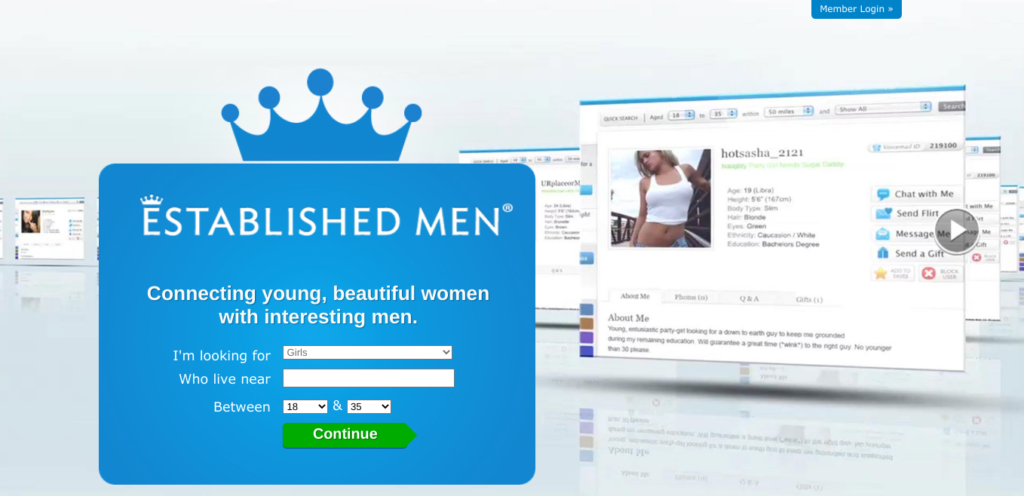 Established Men has been one of the most recognized dating services for "sugar daddies" looking for youthful, gorgeous "sugar babies" since its establishment in 2008.
It's all about finding someone who values the better things in life for these singles. The dating service highlights the significance of establishing mutually beneficial relationships where both parties get what they want.
Established Men is an attractive choice for you if you're an older, experienced man hoping to meet a younger woman. There are a lot of great ladies out there, and there are a bunch of easy-to-use ways to help you approach them.
Established Men is also an excellent place for women looking for mature men to interact with, but the smaller number of male members can make the whole thing a little more stressful. On the good side, women are not required to pay for their membership.
Established Men's interface is similar to many other online dating websites. Your homepage is at the top of every page, and accounts include a person's name, gender, area, height, hair, eye color, and everything adequately classified. There's also a playful introduction at the top of the front page where single men and women can display their personalities.
Site Features & Functionality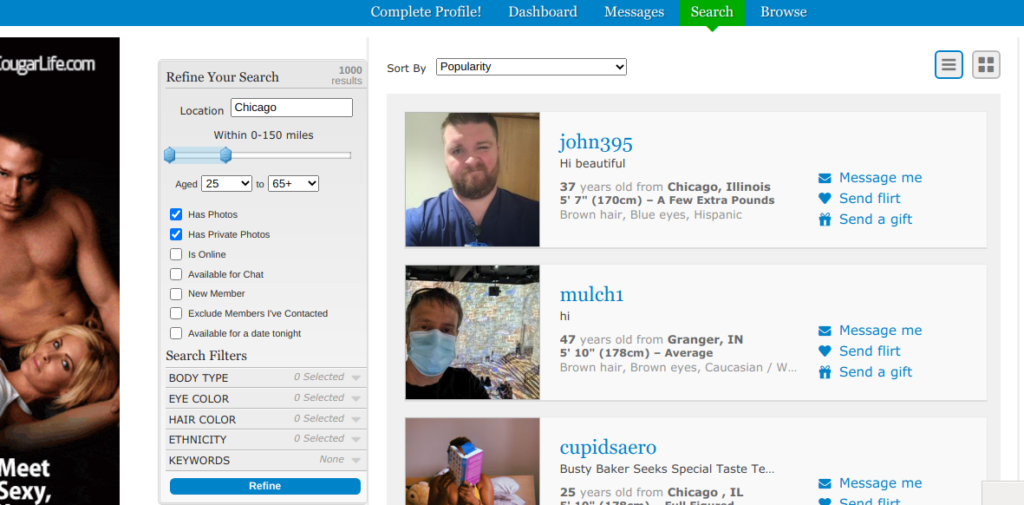 When choosing a decent dating service, one of the most important elements to consider is the features provided to its members.
Before we go into a review of the site's main features, let's have a look at what you can do as a user who hasn't yet paid for a membership:
You will see who has flirted with you or sent you a sticker
You can already see who has sent you a text
You can find out who has peaked at your profile
Browsing is entirely free, and you have access to all search criteria
·You can access all of the profiles, as well as their images
Unless you're a man who needs to read a message you've received, that's good enough to satisfy you.
For single ladies on the matchmaking service, all features are completely free. However, single men can register a profile page, explore the site, and send up to 3 texts without providing their payment information. They'll have to subscribe to a premium membership package if they want to interact in other ways, have their profile highlighted with a special badge for paying members, send a voicemail, or see new members before anybody else.
Free/Paid Functions
Read messages
As a male user of the site, you have the ultimate ability to send messages to anybody you choose. However, you will be unable to see their texts once they respond. To do so, you'll need to purchase credits, which are the website's currency.
Virtual gifts
It's more like a money-making business than almost anything else, but that's expected from a sugar dating platform.
The costliest virtual item, for example, is a platinum credit card, which costs 150 points. But we're willing to go to great lengths for love. And, well, even for any other personal matter.
First to look at new girls
Premium members have some advantages whenever it comes to the inflow of fresh users. Premium members may only be enabled to see any new users within their specified distance for about the first five to six hours of their subscription! Compared to free users in your neighborhood, this suggests you could get a leg up on dates.
It's only one of the numerous benefits of subscribing to a paid subscription, so you should consider it now.
Flirt back
As a male member, you can send flirts to any ladies that catch your eye, but if somebody interacts with you, you won't be able to playback unless you spend some of your points.
Private photos
So if you're a premium member, you can post a large number of such photographs and save them to show only to matches who are genuinely interested in you. You can also ask to see other users' private images.
Once again, the only way to get this would be to pay with credits.
Incognito
Even though incognito surfing is a reasonably widespread option on dating websites, it is still helpful! This feature lets you browse the website, look for partners, and enjoy other functions while maintaining your personal profile hidden and inactive. This implies that if you don't want others to see you've visited their page, you won't be able to.
Promoted profile
Premium members of Established Men receive the added benefit of being put to the peak of local singles search rankings. Members have a significant boost over non-premium users as a result of this.
Premium member badge
This demonstrates to other members that you are a top candidate for local matches. It indicates that you are ready to cover all the expenses, implying financial stability. It also makes it easier for matches to feel at ease since paid accounts are less likely to be fraudsters.
Getting to know the site and registering
It's simple and quick to join Established Men.
Establishedmen login
When you initially visit the site, you'll be welcomed with a simple login screen where you'll need to fill in three facts:
· The gender you are interested in
· Preferred location and area
· Age preferences
Establishedmen signup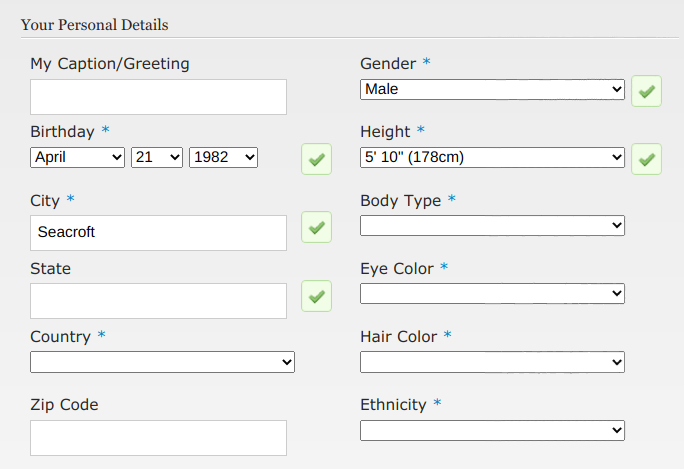 Once you've registered, you'll need to fill out some details, such as a physical description, contact details, and a profile picture. It only takes a couple of minutes to complete the process.
You must provide your email address, identity, passwords, gender, birth date, height, physical attributes, eye and hair color, nationality, and a greeting. That's all there is to it, but if you're committed to meeting someone, we suggest adding some photographs and completing all your About Me boxes to finish your profile page.
Establishedmen delete account
Users of EstablishedMen can terminate the premium subscription while keeping their dating accounts accessible while doing so. You can deactivate your profile on the Established Men in one of two ways:
· You can conceal your profile by deactivating it, and other users will not be able to see it. You can, though, check in and restore your account at any time.
· You have the option of deactivating your account permanently. This will erase your account completely, and you will need to create a new account to access the service again.
Establishedmen Verification
There's a chance you'll run into fraudulent profiles here, especially among the newcomers. These mash-ups will be distributed over a few days when the Established Men team thoroughly checks incoming profiles.
Unfortunately, there are no alternative means for Established Men to verify the validity of its members. But that's all. Site administrators individually approve photographs and send an email confirmation. When communicating with doubtful accounts on the website, always be cautious.
Interface Established men
According to Established Men, the dating platform has thousands of singles. You can look for new users, use the Find a Date Tonight function, or initiate a flirt by browsing for the features we listed above. Exclusive photo albums, live chat, voicemail, and the option to remove your account from search results if you met somebody and don't want to see other people's accounts are among the other features.
The gender ratio is prevalent for sugar dating websites: 30% of members are sugar daddies, and 70% are sugar babies.
Pros/cons
Pros:
Women can access the service and chat for free;
Women are outgoing and eager to meet new people;
Advanced anonymity features, such as the ability to hide profile information and images, are available for any premium member;
Male users have the option to send actual presents to ladies they are interested in;
Established Men has a quick and straightforward signup process;
Though the platform's purpose is to pair older men with sugar babies, it also allows people to browse for regular partnerships;
Multiple privacy options are available to make all users feel safe while exploring the website;
Cons:
Due to the platform's lack of verification process, there have been complaints of fraudulent accounts;
The user interface in Established Men is quite old and less functional;
The price of the service is higher than that of other dating sites;
Until they purchase their membership, men, have minimal capabilities;
Women may well have a tough time getting matches because there are fewer men on the platform;
There is no application for more convenient use provided;
Anyone can register an account because it is free to do so. Expect to do a lot of analyzing and filtering;
The cost
Premium memberships provide you access to all of the site's features and credits for using restricted-access features. It will allow your communications to stand out among those who cannot afford the expense of required participation or who have limited credits.
Established Men is in the upper midfield when compared to other platforms.
In addition to sending messages, premium membership allows you to view private photos and read messages from other worldwide women.
The following are the fees for premium membership:
Intro Membership price: 1 Month will cost 79.00 USD for a month, a total of 79.00 USD;
Executive Membership price: 3 Months will cost 49.00 USD for a month, in total 147.00 USD;
First Class Subscription price: 12 Months will cost 25.00 USD for a month, in total 300.00 USD.
Males can upgrade to premium to gain access to more interacting features. On the other hand, ladies are free to access all of the platform's features and can even subscribe to daily plans to receive priority search results. For 0.99 USD each day, women can purchase the Prioritized Search Listing Program.
EM Media or Prae EM may appear on our credit card account after a transaction.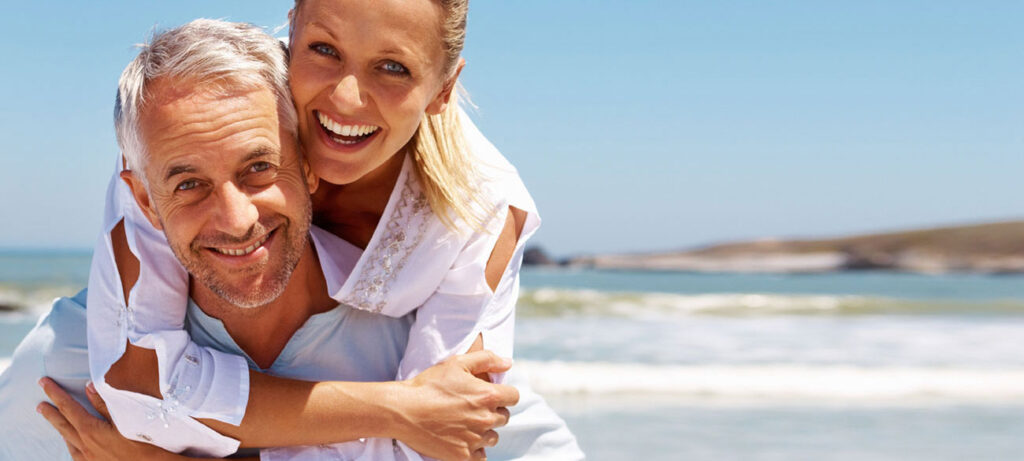 Interesting facts about Establishedmen
Messages and Gifts
If you need to communicate with different people, you have many options. Personal messages, invitations, and chatrooms are all options for communicating.
You can also send virtual presents to other people. Chocolate hearts, luxury handbags, shopping sprees, designer heels, and various other items are available as gifts.
Languages
Only the English language is supported by the Established Men dating service. However, because the website mainly draws visitors from the United States, it is not an issue for the bulk of its users.
Owner
The Avid Life Media Company owns the Established Men platform and other famous dating sites.
Age Distribution
Established Men members are not evenly distributed in age. Women between 18 and 35 make up the great bulk of the target group. The men here are generally in their fifties and sixties.
It's just a standard service that involves simplicity and reliability. Your goals determine their value. This introduction will be quite suitable if you look for an all-encompassing dating service for hookups and entertainment.