Bedpage is a website that provides a platform for people to post classified ads. The site is divided into categories, and users can post ads in the category of their choice.
Sugar Babies, Hookups and Casual Encounters on Bedpage.com
What exactly is Bedpage? Is Bedpage legit? Are there many negative Bedpage reviews? Let's try to answer some of these important questions.
For a start, what is Bedpage? This is a personals directory that's organized by location. You can search for sugar babies, hookups, casual sex and other fun opportunities. This is not a dating website. Rather, Bedpage offers casual and sexual stuff instead of long-term and romantic opportunities.
If casual sex is what you're after, the website will definitely appeal to you.
Pros and Cons of Bedpage
Is Bedpage scam? Not really! Just like any other website, however, it has its advantages and shortcomings.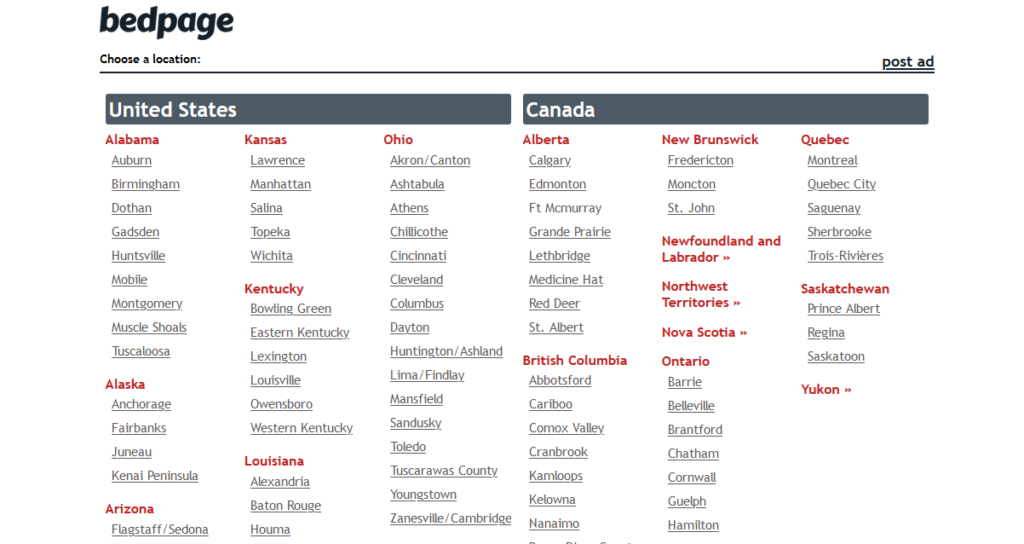 Bedpage pros:
Simple, directory-style format
It's easy to post your own ad
There's a search box
Apart from sexual and hookup stuff, you can also discover various ads for services in the area where you live
Bedpage cons:
Quite disorganized – there's everything but the kitchen sink on there
It seems that most of the ads are for services rather than from people who actually want to hook up
There are numerous fake profiles or accounts that feature misleading pictures/information
Features
There's some risk of Bedpage not working for you because the design isn't the best one out there. The site is pretty much reminiscent of local directories that you would have come across a decade ago.
Getting around is fairly simple and there isn't a whole host of functionalities to choose among.
The ads themselves look somewhat bare and disordered. When you click on one and see its text, you can click on the "similar ads" button to view other opportunities like the one you're exploring.
There is no option to contact members through the website itself. Rather, each poster will have to provide their preferred method of communication – it is usually email or text. You can view that information for free and get in touch with the people that you're interested in.
Bedpage Cost
Looking through the ads published on the Bedpage.com website is free of charge. Keep in mind, however, that many of the offers will redirect you to other websites that will either have you signing up or paying to access the information.
Be very careful about following such links, providing your personal information when signing up or paying for a hookup. Do your research in advance so that you don't end up being scammed.
Bedpage Alternatives
If you do a basic online search, you will come across dozens of Bedpage alternatives. There are actually so many websites like this one that you'll never run out of options.
When looking for online personals opportunities, make sure that they're free of charge. There are apps and platforms that charge you to upload your ad or to communicate with other members. If you're not confident in the quality of the service being provided, however, you should definitely wait some time before spending money.
Websites like CasualXApp and Doublelist offer something quite similar to what Bedpage is all about.
Final Verdict
Bedpage is ok if you are looking for an escort or a sexual service but it's definitely not the best directory out there. If you want a casual hookup that you wouldn't have to spend money on, choosing an alternative platform would definitely be a much better idea.