Pernals (formerly Cragly) is a personals app meant to act as a replacement for Craigslist personals. As a Craigslist personals alternative, Pernals is a place to post and look for dating and hookup ads.
Table of Contents
Pernals is a relatively new dating app that has been getting a lot of buzz lately. Pernals is an app that is designed to help you find casual encounters. Unlike other dating apps, Pernals does not require you to create a profile or provide any personal information. All you need to do is specify what you're looking for and where you're located, and Pernals will show you a list of potential matches. You can then chat with your potential matches and arrange to meet up.
If you're looking for casual sex, partners for a particular kink, or other NSA (no strings attached) relationships, you can find it on Pernals.
At the moment, Pernals is only available on the Appstore and Google Play so you can't use it on Mac or PC devices.
Learn more about this service and discover if it's right for you with our Pernals review.
How It Works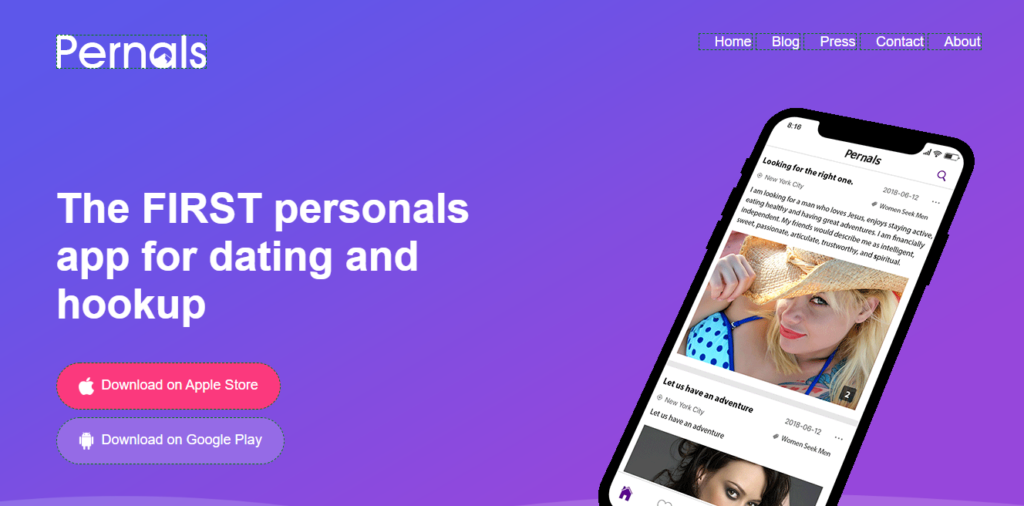 It's easy to get started once you download the app. Create an account using an email address and password and select a username.
You'll have to fill out some basic information such as your age, gender, and what you're looking for in a relationship. You can choose from male, female, transgender, couple, or all.
You'll have to enter a bit about yourself and include a photo. Pictures will show up once they've been approved.
Once you've done that, you can post your ad or start scrolling through matches. You can also filter matches by location and category.
Pros
One of the main pros of Pernals is that the design of the app looks great and it feels easy to use. You don't have to spend a lot of time filling out information or answering dating profile questions, so you can get started right away.
Most of the profiles and ads seem legitimate and the service takes security seriously.
Cons
At the moment, Pernals is only available as an app. The inability to log into your account from a computer is a bit disappointing.
As a personals app, there aren't very many options for people looking for long-term dating or serious commitment. Although you can select "strictly platonic" or that you're looking for a serious relationship, most ads and profiles you'll see are people looking for casual sex and no-strings-attached relationships.
Main Features
There aren't too many features since this is more of a personals app and not a dating app, but you have everything you need.
The main features include:
Gallery
Profile with room for an "about me" section
Swipe to see more pictures feature
Scroll to view more profiles
Ability to filter matches by location, age, and gender
Admires (tap the heart on a photo you like)
Messages
Ability to post ads
You can post an ad for free, though you'll need a membership to send messages.
The Design
The design of the app is basic but functional. It has a modern feel that some dating sites lack, making the service feel more reputable.
It's easy to find what you need and fun to scroll through matches. You can see all your messages, admires/admirers, and ads at the bottom of the screen.
Safety and Security
When you first sign up and start filling out your information, Pernals states very clearly that this is not a sex app. They abide by FOSTA (Fight Online Sex Trafficking Act) and urge users to report suspicious activity.
You can also block or report offensive members and pictures.
Is Pernals Worth It?
After reading our Pernals review, we hope you have a better understanding of what this personals service can offer you.
Although it's an app-only dating and hookup service, Pernals is easy to use and has a good design. They take security seriously and most of the ads seem legitimate.
If you're looking for a casual hookup, FWB, and NSA relationships then give Pernals a shot.