Table of Contents
AdsEncounters is a website that promises to help you make money by posting ads online. They claim to have a simple system that anyone can use to earn income, and they offer a variety of tools to help you get started. But is AdsEncounters a legitimate way to make money? I decided to take a closer look.
ADS Encounters is an adult classifieds service meant to replace sites like the old Craigslist personals or Backpage. The site points out on the front page that it's 100% free.
Not only can you join for free, but you can also post an ad without paying anything. If you're interested in increasing visibility, there is a paid membership option that allows you to manage ads.
Learn more about this hookup and casual encounters site in our in-depth Adsencounters review.
How It Works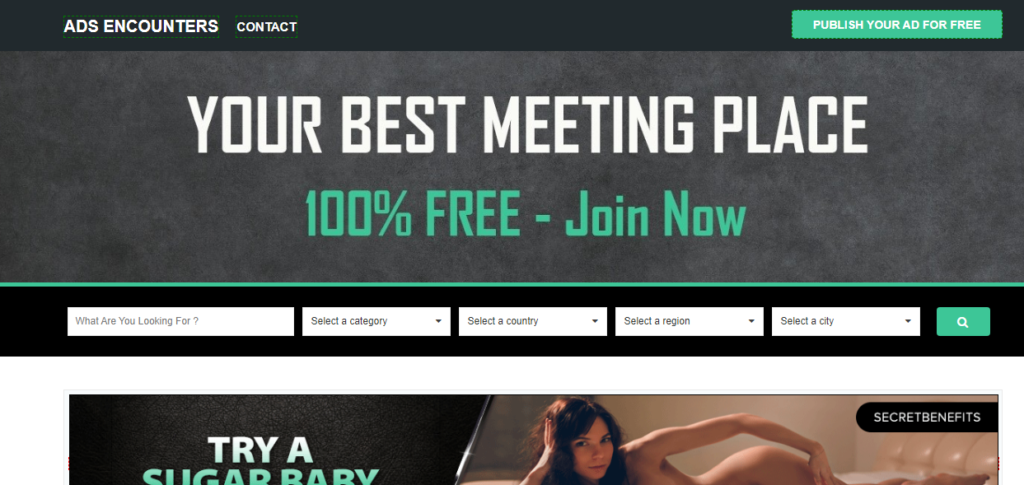 Only registered users can post ads, so you'll need to create an account with an email address. You'll also have to verify the account.
From the front page, you can view premium listings or enter search details. For example, you could select the category you're interested in and narrow it down by location.
You can also filter your results by selecting ads with pictures only.
A unique feature of Adsencounters is the ability to filter by sexuality (such as bisexual curious or homosexual top).
Pros
The site seems more open to the LGBT community with filtering options such as homosexual top and bottom, lesbian curious, and much more.
You can filter by location as well as by preference. This alone makes it much easier to find FWB relationships or to find couples interested in spicing things up in the bedroom.
The design looks professional and it seems like they take security seriously.
Cons
There isn't a huge user base yet. There may only be a few hundred listings (or less) depending on the category you're interested in.
Main Features
There are a lot more features on adsencounters.com compared to other adult classifieds websites. The ability to tweak the search settings and add more filters is a refreshing experience.
Some major features include:
Posting ads for free
Filter casual encounters by category such as "women looking for couples"
Filter by country and city
Premium listing options
Filter listings to include pictures
Select a minimum and maximum age
Filter by sexuality (heterosexual, versatile, etc.)
Subscribe to search
Sex store
Overall, there is a lot to check out on the site and a lot for users to discover.
The Design
The site looks different from a lot of adult classified sites that serve as Backpage replacements. It's professional looking and feels a lot like a dating site with plenty of features to explore.
There aren't a lot of categories, but there are some unique ones such as SexBnB (hospitality for sex).
It's easy to navigate and hopefully, the site will expand the number of categories as their user base increases.
Safety and Security
Users have to register and verify an account before they can post. Most of the ads appear to be legitimate and posted by real users.
There is a disclaimer on each post with useful tips on how to stay safe while using the site. ADS Encounters is also strictly for non-professional users meaning you shouldn't find escorts or anyone asking for money here.
Is Adsencounters a Good Fit for You?
Adsencounters is a refreshing take on adult classifieds. It looks and feels different from a lot of Backpage replacement websites and generally feels safer to use.
Although there aren't a lot of people that use it, that may change as more people discover the site.
Consider taking a look and posting an ad to see if you can find that perfect casual encounter.