How many of you think that you are too old for online dating? Raise your hand! All right, we hear you. With the growing popularity of Tinder and other apps alike, it looks like the internet is only friendly to Gen-Z and Millennials. But here's what we want to talk to you about today. There's one dating site that gathers people from all over the world, and most of its users are between 35 and 50 years old. Interested? We were actually hoping to capture your attention with it. So it's an online dating service, it's called FirstMet. And if you were in your twenties when the first episode of Friends aired in 1994, keep reading! This FirstMet review is for you. 
Firstmet is a popular dating site that has been around for a while. The site has a good reputation and is generally considered to be a safe place to meet people. Firstmet offers a variety of features, including the ability to search for matches by age, location, and interests. The site also has a number of communication tools, such as instant messaging and video chat. Overall, Firstmet is a good option for those looking for a serious relationship. The site is easy to use and has a good selection of potential matches. However, Firstmet does not provide any guarantees when it comes to finding love. Ultimately, it is up to the user to decide whether Firstmet is the right dating site for them.

Member Structure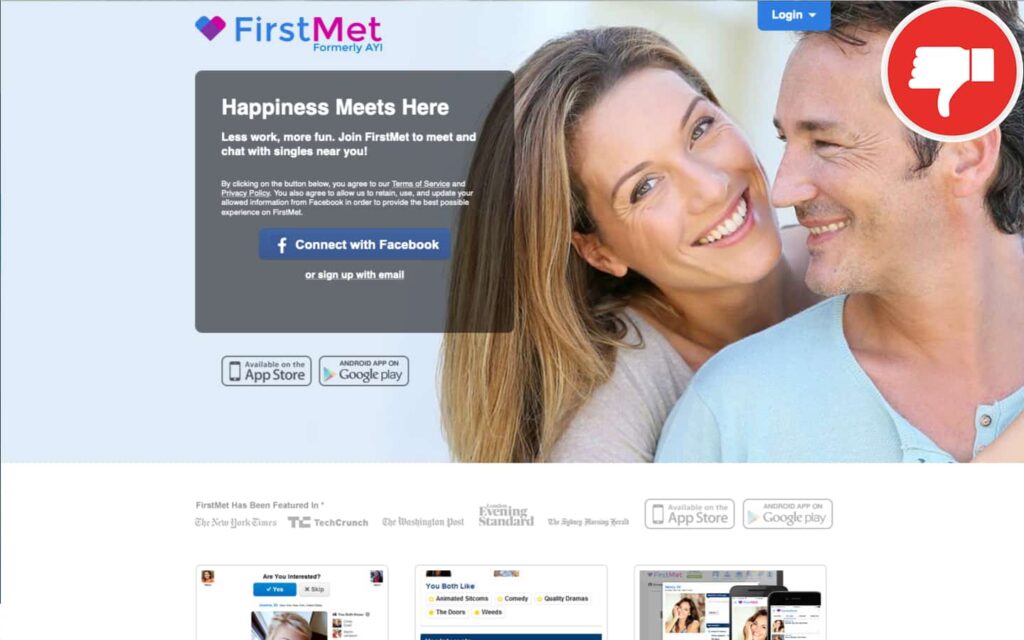 FirstMet dating site is a massive database of singles. Just think about it for a second, it has more than 30 million people from various parts of the world, and about 18 million registered users are from the United States. This website welcomes people of any age, from 18 years old and beyond. However, most of the users are somewhere between 35 and 50, so it's fair to say that FirstMet is a dating service for a more mature audience. When it comes to a gender proportion, it's practically equal as 45% of users are females and 55% are males. So with half a million active weekly users, you have good chances of meeting someone.

Signing Up
In terms of creating and setting up an account, this site is the same as any other online dating platform. All you need to join the community is signup via email or Facebook. If you choose the latter option, the system will automatically import your basic information and a profile photo. Next time, all you need to start using FirstMet is simply login as all the details are going to be set. One interesting thing about it is that you don't have to upload your photos during the signup. Some dating sites require this step, but not this one. Also, be aware that the website detects your location automatically. Just so you know.
Features
FirstMet has pretty much basic features for a dating site, but one interesting thing about it is the amount of attention they pay to the user profiles. It's a dating platform, right? You want to know as much as you can about the other person. And let's be honest, people over 35 years old, which is the majority of users here, aren't very much into one night stands. They are usually looking for something serious. Therefore, the user profiles have everything, from interests to religion, political views, and even zodiac signs. Libras over there, don't worry, it's possible to change the profile information later if you change your mind.

Making Contact
Making contacts on FirstMet is no different than on many other sites. But whereas some platforms offer at least some free options, this one won't let you search for free, so keep that in mind. You'll be able to get recommendations from the system based on your personal preferences. It's also possible to use filters such as the age range and location.

Overall, FirstMet feels like an ancient Tinder, but instead of swiping to different sides, you can either click on a checkmark if you like the person or click on the X if you don't. Also, if you are not sure how you feel about someone, it's possible to skip the profile and re-evaluate it later.

Whenever you want to make the first move, you can get in touch with someone you fancy using "icebreakers". These are the questions that help people get the conversation started, a very useful option for shy or not so creative users. Other than that, there is also a chatroom.

Design and Usability
In terms of design, the site is clearly outdated, but in terms of usability, it's pretty much ok. The look and feel of it did not impress us at all, but we can't rate it too low at least because there is a FirstMet dating app. Even some newer dating sites don't always have one. FirstMet app, which is available for both iOS and Android, is almost identical to the website, but it offers a decent mobile experience. What else do you need? And we have to admit, it's quite popular among the users as there are more than 1 million downloads as reported by Google Play.

CONCLUSION
FirstMet is not the most stylish and up-to-date dating site, but who cares about the bells and whistles anyway? One thing that's important is the user base. As long as there are interesting people who are ready to start dating and open to communication, it doesn't matter how the website looks. And it's always better to create an account and experience things firsthand.