Backlist24 (backlist24.com) is another Backpage replacement site, meaning you can use it to post and look for classified ads that offers a wide variety of categories, including jobs, housing, for sale, services, community, and events. Like other classified ads sites, such as Craigslist and Backpage, Backlist24 allows users to post and look for ads without creating an account. However, unlike those other sites, Backlist24 also offers a "verified" badge for businesses that have been verified by the site. This badge helps to ensure that users are dealing with legitimate businesses when they use the site. In addition, Backlist24 offers a VIP account option for businesses that want to have their ads featured more prominently on the site. Overall, Backlist24 is a useful classifieds site that offers multiple features and options for users.
While you can post a listing for anything from a job to a used car you need to sell, you'll find most ads under the "Dating" and "Adult" sections. It's very similar to the old Craigslist personals where you could find adverts for casual sex or hookup opportunities.
Interested in learning more about this classified ads service? We'll walk you through everything you need to know in this Backlist24 review.
How It Works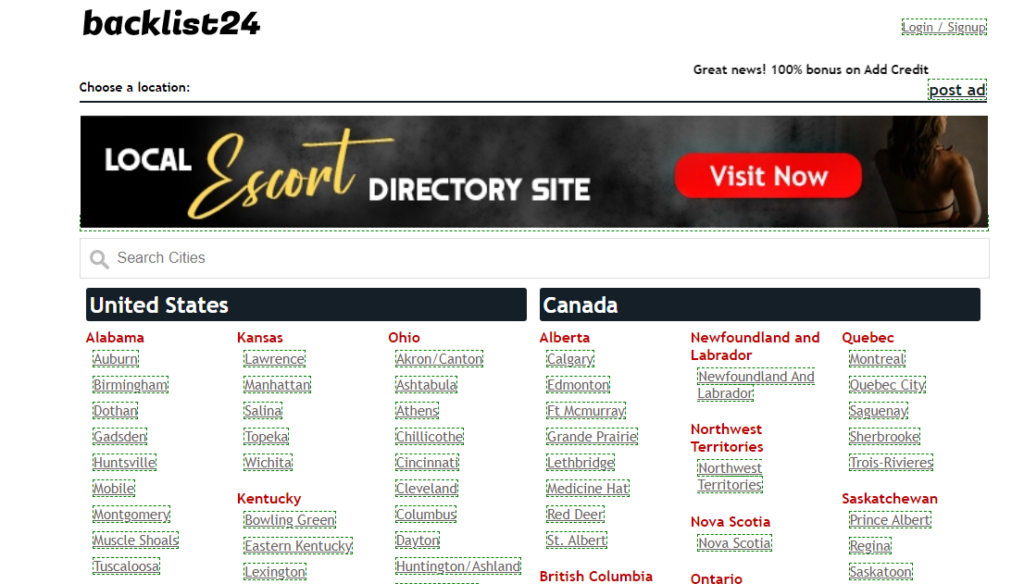 This is a web-supported site so it will work best on your computer. There is no app version but there is a mobile version you can pull up on your phone.
You need to create an account to post an ad. At the moment, you can sign in with a Google account. There doesn't seem to be an alternative way to sign in such as with an email account.
If you want to look for services, simply click on your city (or the nearest major city to you). From here, you can select the category that fits your needs.
Pros
The site is easy to use and there are a fair amount of cities and locations offered to choose from. The directory is laid out well, so it should be easy to find what you need.
Interested in finding a partner for casual sex or a NSA relationship? Chances are that you can find someone close by.
Cons
If you live in a rural area, you may have to drive a bit to meet someone.
There are a few spelling errors on the site itself, including in the "About Us" section and on the security disclaimers that make it feel a bit sketchy.
Depending on your preferences, it can be hard to find a particular kink or partner. The vast majority of ads are in the "Women Seeking Men" category.
Main Features
Like many Backpage alternative sites, the main features revolve around posting and finding ads in your area.
The main features include:
Premium ad options that allow you to post in multiple cities and promote your post
Basic ad posting for free
Various options to buy credits
Ability to manage ads
Ability to find ads by location and category
The Design
The overall design should look and feel familiar to people that have used Craigslist and the old Backpage. It's simple but user-friendly and easy to navigate.
Once you click on a city, you'll see a directory with different options. Once you click on a category, you'll see ads starting from the most recent posting date on downwards.
Safety and Security
When you select a category that contains adult content a disclaimer pops up. Only adults 21 or older should access these areas of the site. While it's unclear how they enforce this, there is a warning stating no minors or content with minors is allowed.
You can report suspicious activity or any content that violates the law in your area. Due to FOSTA (Fight Online Sex Trafficking Act), individuals are responsible for following the Terms of Use and reporting any illegal activity.
Before you can post an ad on Backlist24, you'll need to become a verified user. This involves taking a photo of your government-issued ID and taking a selfie with your ID.
Ready to Post an Ad?
If you're missing the old Craigslist Personals or Backpage, Backlist24 is a good replacement. Most ad posting is free, though you may want to pay to promote your ads.

It's free to browse ads, so give it a shot to find someone close to you.